This shop has been compensated by Collective Bias, Inc. and its advertiser. All opinions are mine alone. #SootheYourSoreSpots #CollectiveBias.
I have a confession.
Eight times out of ten I have to learn things the hard way.
I am an avid hiker and love any activity that gets me outside and in nature, but my tendency to learn things by first doing them wrong means I've also suffered my fair share of "hiking fails" over the years.
The truth is, I used to head out on hikes willy nilly without any packing or preparation what so ever. Thankfully, those days are long gone and now I always prepare for my hikes.
5 Things I Never Hike Without
Tons and Tons of Water
What ever amount of water I think I'll need for a hike, I double it. Water is heavy in a backpack, but dying of thirst sounds like a really bad way to go, so I'll take my chances and carry the extra weight of the water. Plus if I'm hiking with my dog – as I often do – I need enough water for him, and his water bowl.
A (two-legged or four-legged) Companion
In general, I don't recommend hiking alone. If you just want to get out into nature for a bit at the local state park, then sure, it's probably ok to go on a short hike by yourself. Now, if you're planning to hike the Inca Trail or the Himalayas, then for the love of God please do not go alone. It's really just not safe.
I have to admit, there are times when I hike solo, but it's usually a pretty basic hike, and then I always bring my dog with me. You never know what could happen or who you could stumble upon during a hike, but I guarantee I look like waaaay less of an easy target when I have a my dog with me. It's bonus points that Gatsby is extremely protective of me. He's my 50 lb. fuzzy bodyguard and I love it.
My Phone
Ya'll, I know what you're thinking: "Carrie, cut the cord! Be one with nature! ditch your phone!"
This sounds super awesome in theory, it really does, but I have literally gotten lost mid-hike and had to GPS my way to the nearest road to find my way back. Yes, this is a true story. Just ask my friend Sarah. She was with me. We laughed a lot about it afterwards and talked about what hiking failures we were, but honestly if we would have decided to "rough it" and go without our phones we'd probably still be out there lost in Wachusett Mountain State Park.
I have also driven into a state park, parked my car, hiked a trail, and then returned back to find my car wouldn't start. In this case, I was hiking alone (well, with Gatsby). It was the middle of summer in Alabama so it was approximately 125 degrees out with about 456% humidity (only mild exaggerations), and the ranger station was literally 3 miles away. Luckily, I had my phone handy and the number for the ranger station was posted at the trailhead. I was able to call them, they drove out and rescued me and Gats and let us sit in the air-conditioned ranger station while I waited for AAA to come tow my car. It was a debacle, but it could have been much worse.
For these reasons, I will never ever ever ever ever go hiking without my phone.
Bug Spray
Nothing ruins nature quite like being attacked, stung, bit, and just pain harassed by bugs. Ugh, those little creatures are brutal! I remember the summer I spent living in Minnesota. I had clocked out of work early so I could explore this state park not far from my apartment. It was a beautiful day and I was certain is was perfect hiking weather. I took about 20 steps into the woods and on to the tail before I realized the mosquitoes were INSANE. I was so certain it was a perfect day I of course didn't pack and bug spray. I turned right around and left. It was the shortest hike of my life, but I've learned my lesson and now I never go hiking without bug spray.
A Stocked First-Aid Kit
This is a relatively new addition to my hiking must-have list. I used to keep a single band-aid handy in my backpack and call it good. This is definitely not good enough. A first-aid kit is one of those things you'd rather have and not need then need and not have. Trust me, I've learned this one the hard way! A few things I always pack in my first-aid kit:
Athletic tape – I'm a former athlete and my husband is a current athlete so I know all of the wonderful things athletic tape can be used for when it comes to medical mishaps.
BAND-AIDs – Always a necessity.
Gauze pads – again, always good to have.
Benadryl anti-itch gel – did you just accidentally walk right into some weird looking strangely inch-inducing plant? Yep, been there, done that!
BENGAY® Ultra Strength Cream – I have definitely underestimated some hikes. It's usually not until I get half way through and my muscles start aching that I realize I still have half the hike left. This is why I always BENGAY® Ultra Strength Cream. It soothes sore spots and helps to temporarily relieve the minor aches and pains of muscles and joints. It always gives me the boost I need to make it through my hike. This stuff goes on easy and the relief happens nearly instantly.
The products you have in your first-aid kit are important, but so is the bag you keep it all in! It has to be sturdy and functional, and it never hurts if it's cute!
Right now at Target you can get a this zipable first aid-kit completely fo' free when you purchase 3 participating Johnson & Johnson products. I went with the basic red one, but there is also a super cute brightly colored, Oh Joy version available as well!
Shop any of my first-aid kit must-haves by clicking the image below!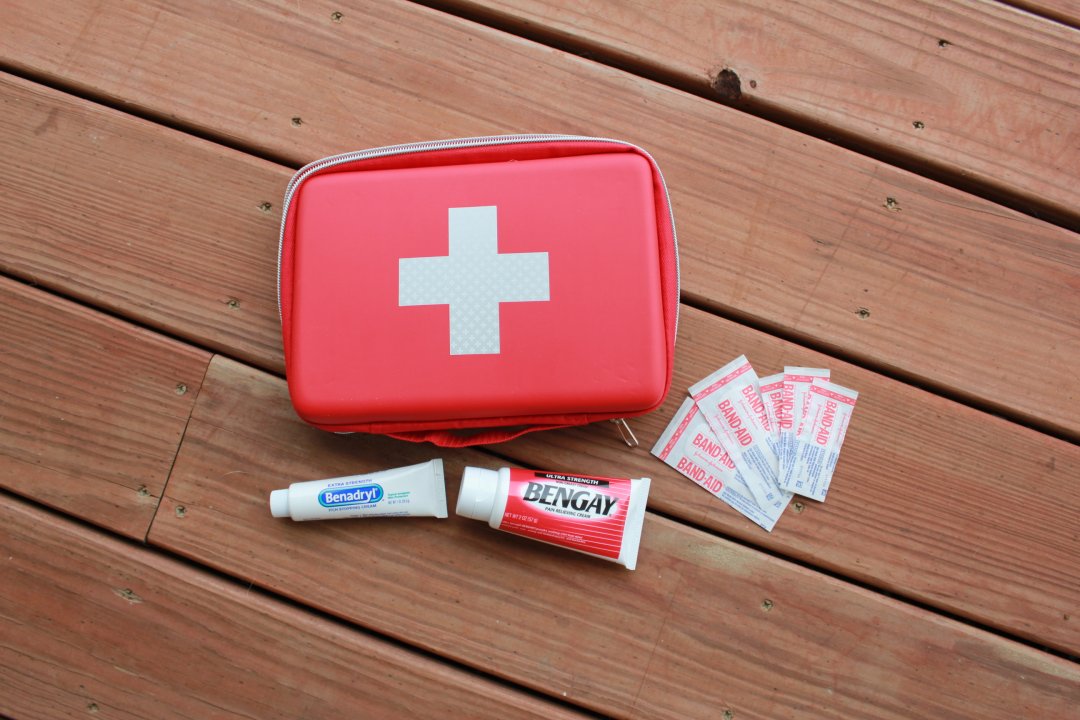 Target makes shopping online super easy! Just load up your cart, check over your order, and then press the "ready to check out button" at the bottom.
Make sure you add the zipable first-aid kit to your cart. A price will show up initially but as long as you've purchased 3 of the participating Johnson & Johnson products it'll deduct the price off for you automatically when you check out. Easy peasy!
©Johnson & Johnson Consumer Inc. 2017 The third party trademarks used herein are trademarks of their respective owners.
now YOU tell ME…
what you NEVER hike without!